Monster Mondays + Doodletown by Lomax & Patch
on
November 30, 2015
at
9:14 pm

A sTRIP 17 Years in the Making.
A lot has happened since the last time I posted a comic.
Here's just a slice:
• Was a visiting full-time instructor at UArts.
• Made a cartoon featuring some of my characters.
• Married the love of my life.
That last one was the best one. As now husband and wife in the studio we have chatted a bunch about collaborating in comics. We've brought our physical worlds together why not our cartoon worlds? So, as I ramp up to return to Monster Mondays (beginning in 2016) and Melissa keeps bringing the awesome in her strip, Doodle-Town, a plan is being formulated. "Operation: April-Foolishness" is in its infancy and the strip above is what we would like to call a little experiment, a trailer if you will, of what you might see in the early weeks of April.
I cannot imagine a better collaborator in writing and drawing pictures than the woman I plan on collaborating with for the rest of my life. We sat down last week to start writing this, we came up with a theme, spit-balled a working method (still working on that) and each of us compromised just a scosh.
Here's how it went down (for those that like that sort of stuff):
• Melissa and I came up with a theme. She did the lion-share of the writing, being as this one features her characters.
• I helped with icons for panels two and three, some of the pacing and some verbiage.
• I drew panel one, Melissa drew panel four, we both drew panels two and three, relying heavily on Melissa's awesome typography.
• We both inked it (back and forth) and I colored it.
• There are two versions; a Monster Mondays version (strip form) and a Doodle-Town version (page form).
Above: The banner we created for the version of the strip that appears on Melissa's page over at GoComics. It was fun designing a strip that worked in both horizontal and vertical formats.
Below: Some of the preliminary sketches I did featuring Melissa's characters from Doodle-Town. Even though they are based on the both of us I needed to familiarize myself with their shapes and the way they moved.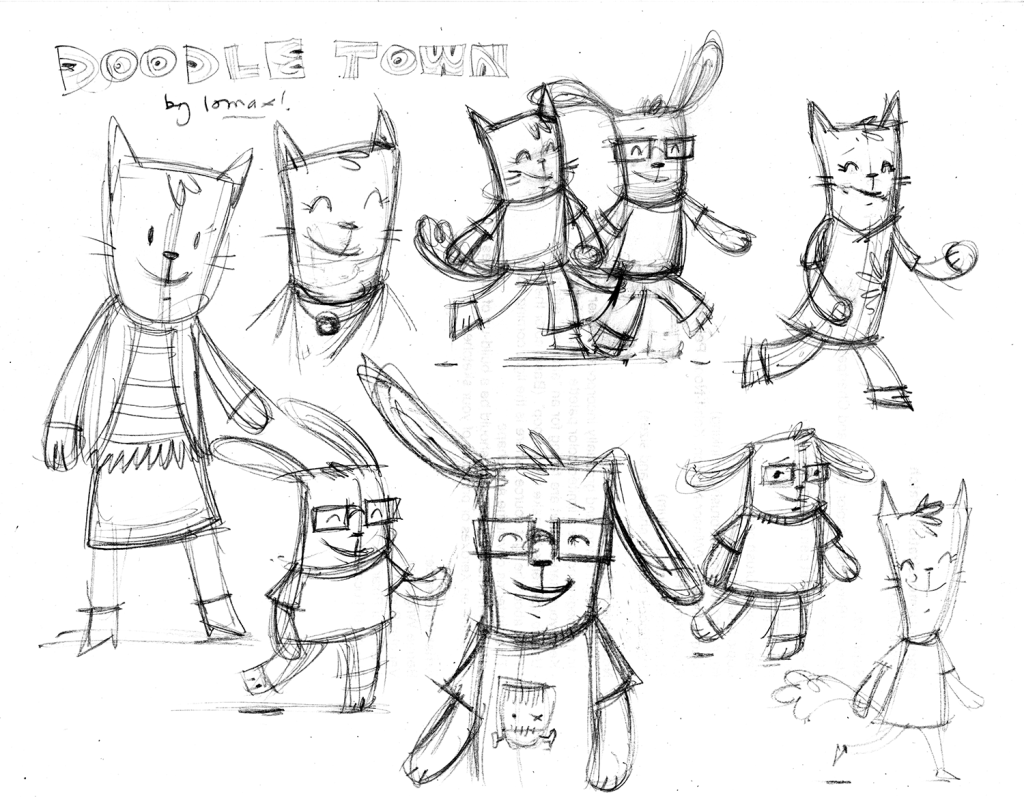 It was so much fun visiting the world of Doodle-Town I can't wait to go back. And I cannot imagine a better way to spend a long weekend than being in the studio, working alongside one of the most talented cartoonists I know. I learned a lot about the way Melissa lays out a page, writes her dialogue and approaches each comic. You should follow her on GoComics, she's a member of a pretty amazing site of cartoonists and brings her own thoughtful and funny take on the world each and every week. Honored to have drawn Kitty Lo Lo and Patches the Pup.
You can expect more Monster Mondays soon. I've been writing a bunch during this hiatus and have lots and lots of stories to tell (see amazing life list above). You can also expect more collaboration with me and the missus. 'Cause she's awesome!